Contact Us
P:217-942-1111
F: 217-942-3130
Our Location
508 N. Main St.
Carrollton, IL
62092
We're Open
Monday - Friday: 9a.m.-5:30p.m.
Saturday: 9-a.m.-1p.m.
Sunday: Closed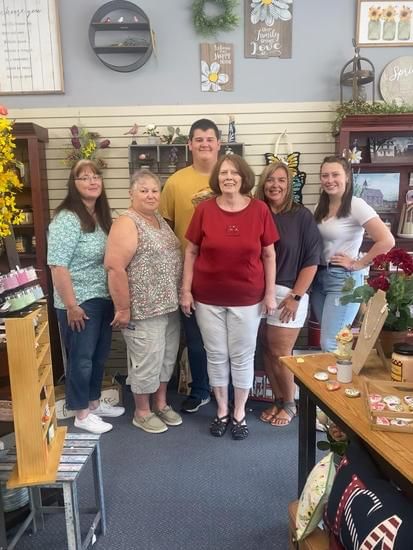 Carrollton Front Staff
All of the following staff members are clerks that work in our front end ringing customers up, restocking, decorating, and customer service.
★ Sherrie
★ Edwina
★ Janice - Primary purchaser and Front End manager
★ Missy
★ Jenna
★ Tall Gentleman in the back is Keyton- he does most deliveries and the heavy lifting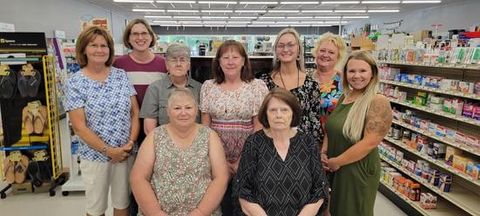 Carrollton Staff
★ Sharon - CPhT
★ Keli - Accountant, HR, Office Manger, and Secretary
★ Rose- Technician, OTC retail associate
★ Kim - CPhT with hospital support
★ Rachel - RPH
★ Rita - RPH
★ Maddie- NO LONGER EMPLOYED
★ Edwina & Janice in the front row are actually pictured in the Front Staff as they do not work in the Pharmacy.
★ Not Pictured is Brandi- CPhT and Medicaid biller
Gift Shop
Children's toys, puzzles, stuffed animals, warmies, and games.
Gift cards, greeting cards, jewelry, clothing, flower arrangements.
Pictures, signs, and home decor.
OTC
Brands, make-up, vitamins, pain relievers, glucose supplies, cold/sinus, eye and

ear products, analgesics creams.

House cleaning products, diapers, bottles, brushes, curling irons, etc.
Home Delivery:
$2.00 fee

When do you deliver? Monday - Friday at 4p.m.
How do I schedule delivery? Notify an associate.
How do I know my items will be delivered? Do you call? Text? Generally delivery is the same day unless something needs to be ordered.
How far in advance do I need to schedule? Before 2 p.m.
What happens if I'm not at home? Without prior arrangements we can not leave medications.
DME products
Brands? Drive, Carex, Cardinal Health.
Insurance accepted? Depends.
Can you deliver these? Yes.
Immunizations
Types? Flu, Pneumonia, Shingles, TDap.
Do you take appointments or walk-ins? Both.
How far in advance do I need to reach out? Day before if an appointment or walk-in.
Can you work with my local business for a clinic? Yes.
How do I make an appointment? Contact the pharmacy.
Mail Delivery
Costs? Postage.
How to pay? Over the phone or credit card on file.
Can you send OTC items? Yes depending on the product.
How to arrange this? Contact the pharmacy.
Consultations
What consultations do you have? Blood pressure check, blood sugar check, medication review, general face to face consultations.
How can I schedule these? Walk-in or over the phone.
Do I need to come into the pharmacy for this or can we do it over the phone/virtually? Walk-in or phone/virtually.
Payments
What payments do you accept? MOST OTC cards, Medicare, Medicaid, cash, card, FHA/HSA, Apple Pay or Samsung Pay.

Do you ever have coupons? No.